Geography Awareness Week (GAW)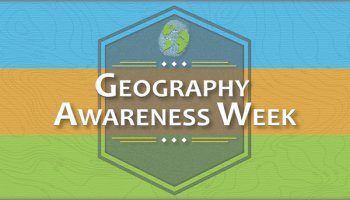 This year marks the 35th anniversary of National Geography Awareness Week! Modern geography is both a physical and a social science. Our undergraduate and graduate courses stress the interaction of people and environment as well as how different parts of the world are interconnected across scales, global to local. Explore our department website to learn about our programs and faculty research.
All GAW Events (Fall 2022)
Saturday, November 5, 2022 | 2:00 pm | Zoom
Co-sponsored with Society of Woman Geographers
Solar Power in New York State: Utility Scale Development and Community Response
Guest Speaker: Jessica Stretton, Recipient of the 2021 Society of Woman Geographers Adelene Moffat Fellowship
Saturday, November 5, 2022 | 10:00 am - 1:00 pm | NYC Park
Hosted by Greenbelt Society & NYC Parks
Marine Park Tree and Shrub Planting
Meeting Location: Salt Marsh Nature Center
Tuesday, November 8, 2022 | 2:30 pm - 4:00 pm | 1022 HN (Hybrid)
Visualizing Geography - Conversations about Geography and the Arts
Guest Speaker: Harold Garcia V, Artist

Thursday, November 10, 2022 | 10:00 am - 1:00 pm | NYC Park
Hosted by Greenbelt Society & NYC Parks
Van Cortlandt Park Street Tree Care hosted by Greenbelt Society
Meeting Location: Riverdale Riding Stables Parking Lot



Monday, November 14, 2022 | 4:00 pm - 5:30 pm | Zoom (Hybrid)
Geography Awareness Week Keynote Speaker
Bringing together Indigenous Knowledge and Science; a need for a paradigm shift
Keynote Speaker: Carolina Behe, Cultural Resource Coordinator, NOAA Office of National Marine Sanctuaries
Thursday, November 17, 2022 | 11:30 am - 1:45 pm | 717 HN (lecture) & 1022 (lunch)
Co-sponsored with AGILE
Career Paths in the Geosciences
Guest Speakers: Jessica Luo and Bor-Ting Jong, Scientists from Princeton University and NOAA Geophysical Fluid Dynamics Laboratory

Tuesday, November 22, 2022 | 2:30 pm - 4:00 pm | 1022 HN (Hybrid)
"Unconquering the Last Frontier" Film Screening
Guest Speaker: Director and Emmy Award Winner Robert Lundahl

Tuesday, November 29, 2022 | 2:30 pm - 4:00 pm | 1022 HN (Hybrid)
Hosted by Greenbelt Society
Blue Ecology in Urban Environment
Guest Speakers: Enrique Lanz Oca, Zoja Misut, Nattapat Karmniyanont, Peter Manos, Lin Wang

Friday, December 9, 2022 | 10:00 am - 11:15 pm | Zoom
Professional Talk - Careers in Climate Change
Guest Speakers: Valeria Correa and Monica Mata from Latin America
Zoom Link to Attend: https://gc-cuny-edu.zoom.us/j/9530100673
Monday, December 12, 2022 | 1:00 pm - 2:15 pm | 1501 HN (Hybrid)
Geography Internships: Student Experiences
Student Presenters: Peter Manos, Summer Renkewitz, Steven Rivera
Monday, December 14, 2022 will be rescheduled to Spring 2023
Departmental Holiday Party
RSVP at https://tinyurl.com/GESpartyDec14

For more information about these events, click on each event and RSVP to reserve your seat!