On Monday, February 1, the two 2015 Winners of the Society of Woman Geographers' Graduate Fellowship Award presented their research to a group of SWG members, geography faculty, students, former recipients of the award and other guests.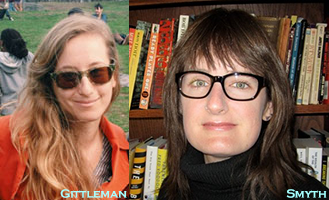 Araby Smyth presented her research "Spaces of Solidarity: Mexican Hometown Associations in New York City" (MA thesis advisor Marianna Pavlovskaya) while Mara Gittleman spoke about "Community Gardens as Green Infrastructure" (MA thesis advisor Carson Farmer). Araby Smyth is now pursuing her PhD in Geography at the University of Kentucky. Mara Gittleman is a NYC community gardens activist and researcher as well as Farm Education Manager at Kingsborough Community College.

SWG has generously sponsored research of our most ambitious female graduate students for decades. Susan Leonard, a board member of SWG, Alice Hudson, former Chief of the Lionel Pincus and Princess Firyal Map Division at the New York Public Library, and Cindi Katz, the CEO of the PhD program in Earth and Environmental Sciences at CUNY Graduate Center attended the event. Allan Frei, the Chair of the Department of Geography, made opening remarks. The presentations were stimulating and exciting, followed by many questions from the audience and lively discussion.
Photo slideshow:

If you can see this, then your browser cannot display the slideshow text.