Walking Tour
Lunch and Walking Tour of
Jackson Heights, Queens
with Professor Ines Miyares
Saturday, October 26, 2013
9:30 AM - meet in Hunter West Lobby
Today, Jackson Heights is one of the most ethnically diverse neighborhoods in the United States, and possibly the world. However, when it was first developed in the early 20th century, land deeds included exclusionary covenants to keep the neighborhood white, non-immigrant, upper-class, and Protestant. Explore how and why this changed, while also seeing the first co-ops in the US. This neighborhood is an adaptation of Ebenezer Howard´s garden city model. We will walk along Roosevelt Avenue, the ethnic main street of the neighborhood, and examine the many ways immigrants express and impress their presence and identity on the streetscape. We finish with lunch and conversation at a local restaurant.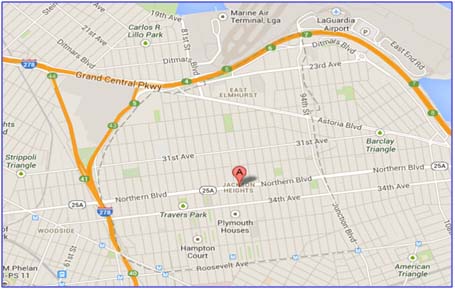 RSVP by Monday, Oct. 21 at 5 PM to geog@hunter.cuny.edu. Include your full name and eight-digit CUNYFirst EMPL ID number.
Bring your MetroCard.
Wear seasonally appropriate clothing and comfortable shoes for walking.
Lunch and tour are FREE.
Rain date TBD
Lunch and tour are free to registered participants and is made possible by the generous support of the Office of the President of Hunter College. Registration is limited to the first 20 students although preference will be given to both Geography and Environmental Studies majors.
Ines Miyares is Professor and Graduate Advisor in the Department of Geography at Hunter College of the City University of New York and will serve as the tour leader.
C A N C E L L E D