Walking Tour
An Exploration of the Rockaway Peninsula
Studying Resilience and Devastation Post-Hurricane Sandy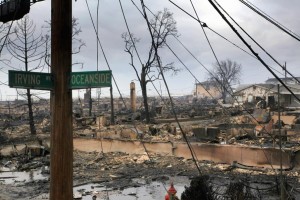 A walking tour led by Dr. Jack Eichenbaum
DATE: Saturday May 4 (The trip will go on in the event of light rain.)
RAIN DATE:  Saturday May 11
COST: $10 per person. This is a reduced price because the trip will be subsidized by a grant from the Hunter College Presidential Initiative to Increase Student Engagement.
SIGN UP AND PREPAYMENT: The department accepts either cash or personal check made payable to "Department of Geography, Hunter College". Deadline to pay is Wednesday, May 1st by 5 PM.
MIN/MAX # OF PARTICIPANTS: The trip will run with a minimum of 20, and maximum of 30, participants. This trip is open to the Hunter College Community, but priority will be given to Hunter College Geography and Environmental Studies students.
DESCRIPTION: Dr. Eichenbaum will lead a walking tour of the Rockaway Peninsula, with a particular focus on the devastation, and resilience, of the area to Hurricane Sandy. He will examine the types of damage done by Sandy, the resilience of different types of infrastructure, and possible alternatives for future development.
LOGISTICS: This excursion is a walking tour that will start at 10:00 AM and last 5-6 hours. It will take place completely by public transportation and on foot, and is thus easily accessible. Students can either bring lunch, or purchase lunch along the way at The Wharf, which has a panoramic view of Jamaica Bay. There will be a lot of walking, uphill and down, and some stair climbing. Watch the weather and dress appropriately. Remember, it's cooler the closer you get to the water. All paid participants will receive further information from Dr. Eichenbaum via email a day or so before the event.
START TIME:  Meet Dr. Eichenbaum at 10:00 AM, Saturday, May 4th
STARTING PLACE:  Far Rockaway Shuttle Bus stop at the Howard Beach stop on the A train (the last stop on the A train). Make sure you take the HOWARD BEACH A train to Far Rockaway. Avoid the Lefferts Blvd. train at all costs. Driving to Howard Beach is discouraged because parking is very expensive and the end of the tour is some distance away from the starting point. Check the schedule for the A train and make sure that you are at the meeting place (Howard Beach stop) no later than 10 AM. If you miss the shuttle bus there will be another one and you can arrange to catch up with the group.
ENDING PLACE:  The tour will end at approximately 3:00 PM and everyone will take the Q53 express bus which intersects with many subway lines (A, E, F, J, R, 7 with connections to the Woodside stop of the LIRR).
DR. EICHENBAUM'S BIO:  Dr. Eichenbaum holds a Ph.D. from the University of Michigan (1972), and has been teaching urban geography and related subjects since that time. He is a long-time resident of our city, and has been giving tours around the city for years under the auspices of the Municipal Arts Society, as a private tour guide, and as an Adjunct Associate Professor in our department. In June 2010 he was appointed  Queens Borough Historian. For more details see http://www.geognyc.com/. 
C A N C E L L E D