Guided Tour
Measuring and Mapping Space Tour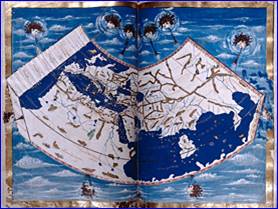 Join Prof. Allan Frei and other members of the Department of Geography at 4:30 PM on Friday, November 22nd for a special curator-guided tour of Measuring and Mapping Space: Geographic Knowledge in Greco-Roman Antiquity.
This special exhibit explores the ways in which ancient Greek and Roman societies understood, perceived, and visualized both the known and the unknown areas of their world. It brings together more than forty objects, combining ancient artifacts with Medieval and Renaissance manuscripts and printed books that draw upon ancient geographic treatises. Together, they provide a fascinating overview of Greco-Roman theories of the shape and size of the Earth, ancient methods of surveying and measuring land, and the ways in which geography was used in Roman political propaganda. A specially designed multimedia display examines the increasing importance of modern technologies in mapping the ancient world.
Mapping and Measuring Space is sponsored by New York University's Institute for Study of the Ancient World and is located at ISAW at 15 East 84th Street. The tour is free but you need to sign up at geog@hunter.cuny.edu. Please put Mapping Space Exhibit in the subject line and include your full name. Students should include their eight-digit CUNYFirst ID.