Professor Solecki testifies to the US House Select Committee on the Climate Crisis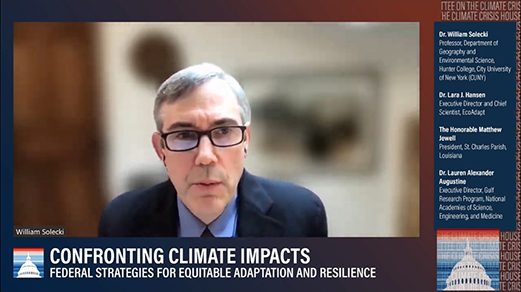 CLIMATE CRISIS COMMITTEE TO HOLD HEARING ON CONFRONTING CLIMATE IMPACTS

March 4, 2022 | Press Release
WASHINGTON - The House Select Committee on the Climate Crisis will hold a hybrid hearing titled "Confronting Climate Impacts: Federal Strategies for Equitable Adaptation and Resilience" on Wednesday, March 9, 2022 at 9:30 a.m. ET. The hearing will take place in Room 210 of the Cannon House Office Building and via Zoom video conferencing. It will be broadcast live here. 

This hearing will examine how the findings of the latest reports on climate impacts underscore the urgent need to develop a national climate adaptation and resilience strategy. It will also focus on ways to activate all sectors and levels of government to deliver actionable climate risk science, information, and tools, while also helping drive funding and investment to vulnerable communities. 

The committee will receive testimony from:  

Dr. William Solecki, Professor, Department of Geography and Environmental Science, Hunter College, City University of New York (CUNY). An expert in urban environmental change, resilience, and adaptation, Dr. Solecki founded the CUNY Institute for Sustainable Cities, which works to make cities part of the solution to sustainability challenges. He was an author of the United Nations Intergovernmental Panel on Climate Change, Working Group II's Summary for Policymakers and chapters on climate risks to cities, and a coordinating lead author of the US National Climate Assessment chapter on Urbanization, Infrastructure, and Vulnerability. 

Dr. Lara J. Hansen, Executive Director and Chief Scientist, EcoAdapt. Dr. Hansen leads EcoAdapt's work to support professionals in adaptation and management sectors. She serves on the United Nations Intergovernmental Panel on Climate Change and is a United States Environmental Protection Agency Bronze Medalist. Dr. Hansen previously worked as the chief climate change scientist for the World Wildlife Fund, where she created their international Climate Change Impacts and Adaptation Program. 

The Honorable Matthew Jewell, President, St. Charles Parish, Louisiana. Jewell was elected in 2019 as the chief executive of St. Charles Parish. He currently serves as the President of the Parishes Advocating for Coastal Endurance (P.A.C.E), an organization of more than 20 coastal parishes fighting for coastal restoration. Jewell previously served as a Legislative Advisor to the U.S. Department of Energy during the Trump Administration and as the District Director for Congressman Steve Scalise. 

Dr. Lauren Alexander Augustine, Executive Director, Gulf Research Program, National Academies of Science, Engineering, and Medicine. An expert in water, natural disasters, and resilience, Dr. Augustine currently oversees the management and use of criminal funds from the Deepwater Horizon disaster. She previously led efforts to build community resilience at the Resilient America Program and as the country director for the African Science Academy Development Initiative. 

More information about the hearing, including a live webcast, will be available on the committee's website here. 
Reprinted from https://climatecrisis.house.gov/news/press-releases/climate-crisis-committee-hold-hearing-confronting-climate-impacts