In the News
Scenarios Forum 2019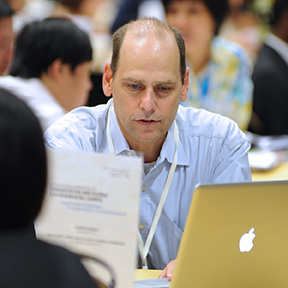 From 11 – 13 March, Professor Peter J. Marcotullio was among the 300 attendees of the Scenarios Forum 2019, held at the University of Denver in Denver, Colorado. The forum brought together a diverse set of scholars from around the world, who are using or developing scenarios for use in climate change and sustainability analysis. Among attendees were other CUNY scholars including Deborah Balk (Baruch) and Bryan Jones (Baruch). 
The forum focused on the use of the Shared Socio-economic Pathways (SSPs) and Representative Concentration Pathways (RCPs) in futures work. The intent was that current research could inform the use of scenarios in the Sixth Assessment Report of the Intergovernmental Panel on Climate Change (IPCC) and help to ensure a research base sufficient to inform future national and international assessments as well as policy initiatives, including the Sustainable Development Goals (SDGs).
Professor Marcotullio presented research done in collaboration with Carsten Kessler (University of Aaborg) and Balazs Fekete (City College of New York) on a range of urbanization trends, given different SSPs and the exposure of these populations to very warm (defined as those > 42° C) 15-day heat waves to a audience interested in urbanization, climate change impacts and vulnerability.   The forum is a platform to obtain further information on the uses of the new SSP-RCP matrix and how to further current research.
Despite a "bomb cyclone blizzard" that occurred during the last day of the meeting, the conference organizer, Brian O'Neill, speaking for the steering committee, stated the conference was a great success, with very high-level presentations and discussions and resulted in significant community building. Scholars that attended the forum from the New York City area have already started planning a local workshop to discuss potential research collaboration.
For more information on the forum goals, agenda and presentations see https://www.scenariosforum2019.com/