In the News
Charuta Kulkarni receives MSCA Individual Fellowship (2018-2020)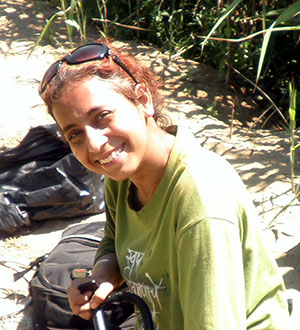 The Department of Geography congratulates Charuta Kulkarni, one of our long term adjuncts! A former student of Earth and Environmental Science Program of CUNY Graduate Center and an adjunct faculty at our department, Dr. Charuta Kulkarni receives a European Union's prestigious Marie Sklodowska-Curie Actions (MSCA) Individual Fellowship (2018-2020) to advance her interdisciplinary research in the European setting.

Charuta is a broadly trained earth scientist with undergraduate and graduate degrees in Geology and Archaeology from India. She joined the CUNY Graduate Center in 2010 to pursue interdisciplinary doctoral research through integrating knowledge and techniques from these natural and social science disciplines. Working with an international group of researchers from CUNY, Lamont Doherty Earth Observatory of Columbia University, Serbian universities and archaeological institutes, her doctoral dissertation reconstructed the environmental history of the Balkan landscapes and discussed it in the context of the Little Ice Age climatic variability and societal impacts of the time.

Under the MSCA, Charuta is now teaming up with paleoecologists, ecosystem modelers, and policy experts from The Open University and University of Oxford, UK and The National Center for Scientific Research (CNRS), France to investigate long-term transformations of the human-dominated forested landscapes of India. Her scientific research will test and comment on their resilience against monsoonal variations and human impacts, especially anthropogenic fires in the light of India's new land management policy and its wider relevance to other tropical countries.