Recap of 2018 GIS Jobs Fair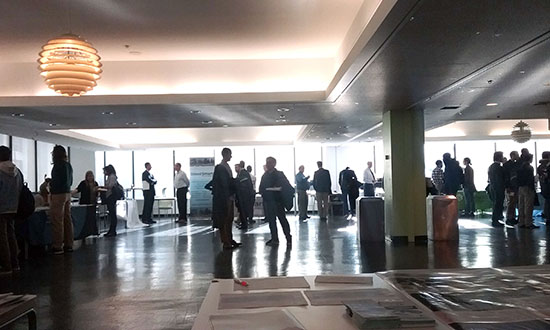 GISMO held its second annual Jobs Fair on Wednesday, November 14th at Hunter College, in the spacious 3rd Floor Cafeteria of the West Building at East 68th Street and Lexington Avenue.
Once again, a number of colleges and universities with GIS programs were represented including Hunter College, Lehman College, Pratt Institute (SAVI) and Bronx Community College (BGCCCI).
Private companies, government agencies and non-profit organizations were a major presence including Cyclomedia Technology Inc., ESRI, GroundPoint Engineering, Humanitarian OpenStreetMap Team (HOT), Spatial Networks and Stellar Services, Inc.; and NYC agencies including Health and Mental Hygiene, Transportation, Economic Development (EDC), Health and Hospitals, FDNY and NYPD. George Percivall, CTO of the Open Geospatial Consortium (OGC), a national spatial standards setting organization, answered questions and provided guidance. In addition, the State of New York was represented by State GIO Frank Winters who informed attendees about how to apply for state agency GIS jobs.
Although the number of job seekers was less than last years event, it still topped seventy-five attendees. A number of these have already received invitations for job and internship interviews.
Assessing this years Jobs Fair, GISMO leaders hope that next years Job Fair will build on this years excellent employer participation. We also hope to increase the number of job seekers by identifying the best day and time on which to hold the Jobs Fair to minimize conflicts with student work and school schedules.
Special thanks goes to the Department of Geography, Hunter College for providing a magnificent space; and Amy Jeu who served as Jobs Fair manager for the second year, and who devoted many hours of effort to making the Fair a success. Thanks also goes to volunteers who helped on Fair day including Noreen Whysel, Wendy Dorf, Lisa Palmer, Connie Koo and Alan Leidner.