GGA Talk
Israeli Desalination and Community Gardening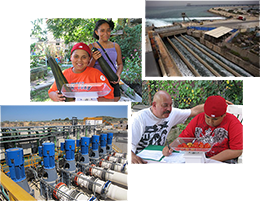 Monday, September 22, 2014
4:15 pm to 5:15 pm
Room: 1004 HN
Marissa Isaak is a doctoral student at the University of Arizona, who now has an institutional affiliation wtih the Hunter College Department of Geography. She researches the social and political impact of Israel's recent transition toward large-scale desalination in its water system. She has lived in Israel, Jordan, and Kenya and; has conducted extensive research on internationalwater policy.
Mara Gittleman is one of our MA-Geography students at Hunter. She is the founder of Farming Concrete, an open, community-based research initiative to measure food production in NYC's community gardens. Both the process and the results of the research are helping to achieve the community organizing and activism goals of community gardeners citywide. She has published Using Citizen Science to Quantify Community Garden Crop Yields in the journal Cities and the Environment. 
Both Marissa and Mara will be discussing their use of qualitative and mixed methods in their research, and the principles of community engagement, social justice, and activism in general.
Light refreshments will be served!