Department of Geography Annual Awards Dinner
Friday, May 8th, 2015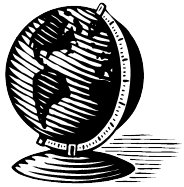 This year's Department of Geography Annual Dinner and Awards Presentation will take place on Friday, May 8th, 2015 from 6:30 pm to 9:30 pm in the Faculty Dining Room, 8th Floor, Hunter West Building located at Lexington Avenue and East 68th Street, New York City.
Featuring the Winners of the 2015:
Society of Woman Geographers Graduate Fellowship Award
Miriam and Saul Cohen Prize(s) for Geographic Excellence
Gamma Theta Upsilon Induction
Tickets: $40.00 per person or $20.00 for registered Hunter College students — GTU inductees and Cohen Prize winners are admitted free of charge. Seating is strictly limited and no tickets will be sold at the door the evening of the event.
Ticket orders must be received no later than Friday, May 1, 2015.

Download and submit the below form.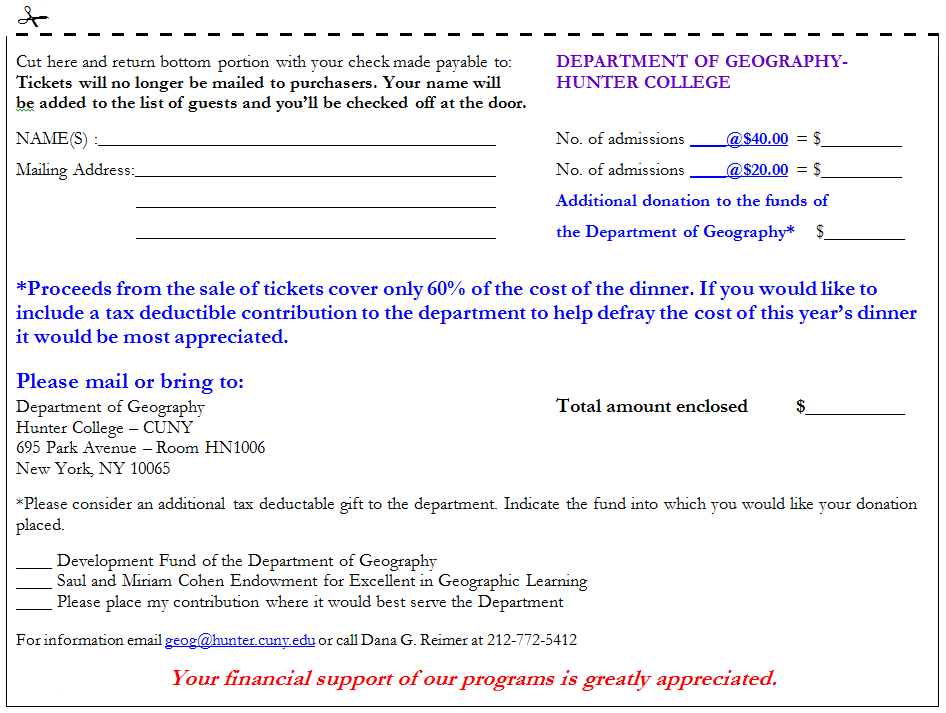 ---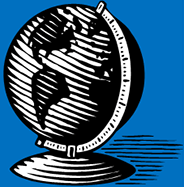 Dear Friends of Hunter Geography:
As many of you are aware, the tickets sold for each year's awards dinner do not cover the entire cost of the event. In fact, ticket sales cover only about 60%, leaving the department to pay the remaining 40% from the Department of Geography's Development Fund. This fund was designed to cover expenses that our departmental budget does not cover such as helping subsidize student attendance at professional conferences, refreshments for the GeoSeminar series, honoraria for guest speakers, etc.
The department's Development Fund has been shrinking each year because we have not received donations equal to our expenditures. This year we are actively seeking individuals willing to underwrite a portion of the dinner. Your support helps ensure that Hunter Geography can continue to sponsor the annual awards dinner and support our students.
Yes, I would like to help underwrite the 2015 Department of Geography Annual Awards Dinner with a tax deductible contribution of:
Contribution        Level
○ $100                  Mt. Washington
○ $250                  Denali
○ $500                  Mt. Everest
○ $1,000               Mt. Olympus
○ $_________      other (mountain of your choice)
Anyone making a tax deductible contribution to the Department of Geography will have their name(s) listed in the dinner program. Deadline for inclusion in this year's program is Friday, May 1st but contributions are accepted every day of the year.
Please make your check payable to Department of Geography, Hunter College. Your contribution will be formally acknowledged within the month of May, 2015.
My name(s) should appear in the program as follows:                                                                                     
(ex. Mary Louise Rodriguez, Mary and David Jones, Mary Louise Rodrigues and David Jones, Anonymous)
Please return this entire form with your ticket order and contribution to:
Department of Geography
Hunter College-CUNY
695 Park Avenue – HN1006
New York, NY 10065