Hunter College Greenbelt Society's World Oceans Month Event
Friday, June 26, 2020
1:00 to 3:00 PM Eastern Time (US and Canada)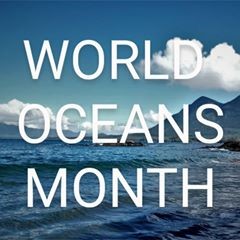 Register in advance for this meeting:
https://huntercollege.zoom.us/meeting/register/tJ0lfu-trTsqH93HbQsIakq5Z6uTvesiJDFm
OR https://tinyurl.com/GBSoceans062620
For centuries, humans have engaged our oceans. We built ships to explore it, taking us far beyond the horizon. We fought wars, traded goods, and discovered new worlds. Even now, we continue to feed millions from its plentiful bounty and extract vital resources for medicine to treat human illness. Our connection to the oceans is all encompassing. We are bounded to it.
Fast forward to the 21st century. Human presence has led to dramatic changes on this planet. The anthropogenic footprint has extended far beyond the terrestrial sphere. Our dependence on ocean ecosystem services and functionality is at risk. We are under increased threat of ocean heat stress, plastic pollution, ocean acidification, and oil spills, just to name a few.
Every year in June, we celebrate World Oceans' Month. In recognition, The Greenbelt Society and the Department of Geography and Environmental Science at Hunter College are proud to host a distinguished panel of professionals, faculty, CUNY alumni and others who will highlight the importance of ocean research and conservation. Come join us!
PRESENTERS:
Dr. Haydee Salmun, Department of Geography and Environmental Science, Hunter College, CUNY, will begin with welcoming remarks entitled, "We Celebrate the World Ocean"
Dr. Randye Rutberg, Department of Geography and Environmental Science, Hunter College, CUNY, will present on Global Climate Models and Marine Sediments to look at the Ocean's Role in Climate Change during the Last Glacial Cycle
Ms. Natalie Monterrosa, Brooklyn College alumni, will present "Ocean Heat and Marine Heatwaves"
Description: Within the last few decades, there has been an observed increase in the frequency, intensity and duration of these events in several places around the globe. The impacts can be devastating to marine ecosystems, which are some of the most sensitive to temperature changes. I will briefly define marine heatwaves, primary drivers and impacts. I will also outline some of the consequences of excess heat in our oceans like melting sea ice and sea-level rise. The purpose of my presentation is to highlight the role that oceans play in Earth's energy budget and the need for more research into the emerging threat of marine heatwaves.
Dr. Carrie Garrison-Laney, Tsunami Hazards Specialist and PMEL Liaison. Washington Sea Grant, College of the Environment, University of Washington, will present "Tsunamis past & future: how a combination of field evidence and modeling are defining tsunamis hazards in Washington State"
Description: Washington State has many sites with tsunami deposits, and many potential tsunami sources. My research seeks to correlate Washington's tsunami deposits with likely sources by refining the ages of past events, and by testing potential sources using numerical modeling. The combination of these two methods will improve our understanding of the recurrence of tsunamis by source type, and tsunami hazards in Washington.
Ms. Diana Polonska, Hunter College Alumni, will present "Case Study: Great Pacific Garbage Patch"
Description: The Great Pacific Garbage Patch formation is an example of marine pollution, specifically pollution by plastics that have been transported from terrestrial to aquatic ecosystems. Of all the plastics entering the ocean, more than half of it is less dense than water which allows for it to stay afloat and accumulate at the surface of still waters. According to Laurent C. M. Lebreton, approximately 1.15 to 2.41 million metric tons of plastic enter the ocean each year from terrestrial inputs into rivers which lead into the ocean. The Great Pacific Garbage Patch encompasses a surface area of about 1.6 million square kilometers or about 600 thousand square miles which is an area twice the size of Texas and three times the size of France and contains at least 79 thousand metric tons of plastic. The plastic accumulating within these gyres comes from various regions of the world, predominantly from eastern Asia. By studying ocean currents and how solid items travel within the ocean, we can make better assessments on how plastics are distributed and accumulate within the ocean. Additionally, studying the types of plastics that make up these garbage patches can help us understand how plastic in the ocean can evolve or change and how this type of pollution directly effects marine ecosystems.
Dr. Haydee Salmun, Department of Geography and Environmental Science, Hunter College, CUNY, will present "Antarctica, the Southern Ocean and Climate: A look at the dynamics of Paradise Bay"
Description: I will review signs of change in Antarctica and the Southern Ocean and discuss plans for a study at a site in the Western Antarctic Peninsula. Hydrographic data in Paradise Bay and the Gerlache Strait will be used to characterize the waters in the Bay and determine the influence of the water circulation in the Strait. Historical observations from early 1990s and observations from summer campaigns conducted in 2014-15-16 will be used in conjunction with data from the World Ocean Database. The increase in human influence due to tourism in the area warrants an examination of the impact on the dynamics of the Bay. In addition, waters in the Gerlache Strait that enter the Bay region are fed by Antarctic Circumpolar Deep Water and changes with time in Strait waters can be used as indicators of larger scale changes.
Mr. Howard Sprouce, The Remediators Incorporated, will present "Cleaning up after an oil spill in Sub Arctic Alaska"
Description: The challenges of COVID 19 have changed how we communicate and our ability to conduct life as normal. Internet based ,virtual communication is allowing us new opportunities to use this virtual environment to conduct business between the remote villages in the Arctic North and the outside world using local labor along with real-time virtual guidance and environmental project management in the clean up of environmental contamination. The 'Integrated Biological Approach', combines the use of mushrooms, plants and microbes in a bioremediation system that is being deployed in the coastal village of Quinhagak Alaska. We are working with Qanirtuuk Incorporated, an Alaska Native Corporation that is sustainable and culturally focused. Their motto is 'Enhancing Business Through Native Values.'
Dr. Meg Chadsey, Washington Sea Grant Ocean Acidification Specialist and Liaison to NOAA Pacific Marine Environmental Lab, will present "Carbon Comes Home—Kelp Cultivation as a Strategy for Mitigating Ocean Acidification"
Description: In Puget Sound and elsewhere, ocean acidification—caused by human carbon dioxide emissions--threatens important marine resources. A 5-year investigation in Washington's Hood Canal explored the potential of seaweed aquaculture to buffer vulnerable shell-forming organisms from corrosive seawater conditions. Several serendipitous benefits of kelp faming were discovered along the way."
Mr. Ramiro Campos, Department of Geography and Environmental Science, Hunter College, CUNY, will present "John of the Mountains and the Ocean System: Free Markets, Race, and Power in the Deccan"
Description: This short presentation is inspired by YB Yeats' observation that "Education is not the filling of a pail but the lighting of a fire." This presentation will recommend students to 1. not only see the world as scientists, but also as poets; and 2. to understand the world away from the perspectives of the Colonizer and closer to the perspective of indigenous people. This talk will take the historical lessons of climate phenomenon and propose that indigenous wisdom should not be ignored when understanding climate and oceans.
All are invited to attend!
Register in advance for this meeting:
https://huntercollege.zoom.us/meeting/register/tJ0lfu-trTsqH93HbQsIakq5Z6uTvesiJDFm
OR https://tinyurl.com/GBSoceans062620
After registering, you will receive a confirmation email containing information about joining the meeting.