Chair's Column
Chair's End of Year Message for the Spring Semester
Dear students and colleagues,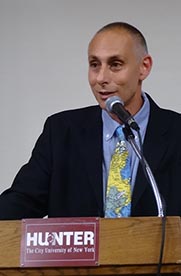 Just a brief end of semester message from the Chair. First of all, good luck to everyone on your final exams, and I wish you an enjoyable and productive summer. I'd like to say a few words about the department, and a few words about recent news related to climate change.
About the Department
The Department's annual dinner and awards ceremony on Friday, May 9th was a very successful event. We officially welcomed our newest faculty member, Carsten Kessler, and celebrated with many departmental friends/supporters, alumni, former colleagues, and students. There were many people in attendance who have been affiliated with the department for decades. It is a testament to Hunter Geography that so many people continue to support the department year after year. A number of our alumni who have moved on to interesting and important jobs using their geographic and/or GIS skills were there.
In the awards department Volha Melianets, Environmental Studies major, and Silvia Lorenzo, Geography MA, were awarded Miriam and Saul Cohen Prizes for Geographic Excellence. Each student received a check for $1,000. Silvia Lorenzo also won the Society of Woman Geographers Graduate Fellowship Award in the amount of $6,000. And Joan Lai, Darlene Lehman, and Gilbert Rivera were inducted into the Theta Pi chapter of Gamma Theta Upsilon, the international geography honor society. Prof. Sara McLafferty, former member of the faculty of Hunter Geography (1987 to 2001) and currently Department Head, Department of Geography and Geographic Information Science, at the University of Illinois at Urbana-Champaign, received the Anastasia Van Burkalow Award for Distinguished Service, the department's highest award.
The big curricular changes include the new Geography major curriculum, which took effect last spring (2013); the new Environmental Studies curriculum will kick in as early as this fall (2014); and our proposal for a new Masters in Geographic Information Science (MGIS), which, if approved and moved through the CUNY and New York State bureaucracies, could potentially come on line as soon as fall, 2015.
I am finishing my second year as Chair, and am looking forward to a year of sabbatical during the 2014-2015 academic year. During my sabbatical Professor Marianna Pavlovskaya will take over as interim Chair. Then, in spring 2015, the faculty will vote for the next three-year term Chair.
I want to thank the department staff for making the department function as smoothly as possible during the last year; all the faculty for pitching in to make last year a success for the department; and especially all the students who contribute in so many ways to making the Department of Geography such a stimulating and enjoyable place to be.
Recent News about Climate Change
This last week was a big week for climate change news, with stronger signals that our environment continues to change in dramatic ways. First, the release of the latest major report, the US National Climate Assessment (http://nca2014.globalchange.gov/). I urge you to take a look at this very manageable web site. One of many major findings is that the northeast region, which includes all of New York State, has the largest change in extreme events of any region. There are many other startling trends identified in this report. Of particular concern for our region is that the Catskill Mountains (the source of New York City's water) and the Hudson Valley, just north of our city, have the highest increasing trend in river flooding magnitude of the entire eastern United States. This is of particular interest to me because of my research interests in this area.
My research has shown that during the last one to two decades the frequency of extreme hydrological events in the Catskills / Hudson River Valley has approximately doubled, which was predicted by climate models to occur only at the end of this century. This may indicate that models are under-predicting the rate of human induced change, that we are in the upswing portion of a natural cycle or some combination of the two. My research also shows that the trend is during the August - October time frame, during which tropical storms and hurricanes, and warm sea surface temperatures off the coast, generally cause the largest storms. During the winter season, when snow-melt related flooding occurs, we see a drop in the frequency of big floods in the last couple of decades.
Regarding the second climate-related news this week, I must tell you that in my 20 plus years in this business, I have never been as emotionally affected by climate change news. Two independent scientific reports (see citations below) released this week show that significant portions of the west Antarctic ice sheet are starting to shrink; that this is the beginning of a long process of "ice sheet collapse"; that this process is most likely irreversible; and that this may cause at least several additional feet of global sea level rise over the coming centuries (although during this century it will add a much smaller amount). If these reports are confirmed by subsequent analyses in the coming years, global society during the 22nd century and beyond will have to adapt in major ways, such as the relocation of major coastal cities. It's hard to believe, but we may be seeing the early signs of this worst case scenario which will take its biggest toll in centuries to come.
I hate to end this message on a somber note, but keep in mind that society will adapt to these changes long after current generations are long gone.
Allan Frei
May 13, 2014
Two reports released this week:
Joughin et al, 2014, Marine ice sheet collapse potentially underway for the Thwaites Glacier Basin, West Antarctica, Science, DOI: 10.1126/science.1249055
Rignot et al, 2014, Widespread, rapid grounding line retreat of Pine Island, Thwaites, Smith and Kohler glaciers, West Antarctica from 1992 to 2011, Geophysical Research Letters, DOI: 10.1002/2014GL060140