Chair's Column
Chair's End of Year State of the Department Message
May 2013
Dear colleagues, students, and friends of Hunter Geography,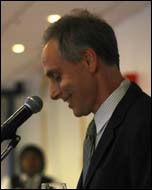 I hope that you have all had a fulfilling 2012-2013 academic year. With one week left before finals I thought it was time for an end of year State of the Department message. The department is going through a number of changes, so it is simultaneously an exciting time, a sad time, and a bit of a stressful time for Hunter Geography. I would like to fill everyone in on what is happening, including changes to our faculty, and revisions to our curriculum.
We have a number of changes to our faculty that are both sad and exciting.  First, Professor Charles Heatwole has retired. Professor Heatwole, who started teaching at Hunter College in 1974, is the quintessential geographer and educator. He has played many roles here, and has had tremendous influence on the evolution of the department. He is loved by students and colleagues alike, and his retirement is a great loss to the department. The silver lining is that we expect some vicarious excitement hearing about the adventures of Charlie and his wife Debbie in retirement.
The other unfortunate personnel change is the resignation of Assistant Professor Traci Warkentin, who joined our department in 2009. She was a wonderful addition to our department, and she was very happy here. We are all saddened by her departure, but hope to stay in touch with her. She will always be a friend of Hunter Geography.
On the exciting side, this year we welcome two new faculty members to our department. Assistant Professor Carson Farmer, who arrived in January 2013, is the newest member of our GTECH team. As an expert in GIS, geocomputation, spatial analysis, and transportation, Professor Farmer adds breadth and depth to our GIS program. We are very excited to have him on board and look forward to great things.
Arriving in September will be Assistant Professor Carsten Kessler, an expert in the processing of information, data, and knowledge, who works in the fields of participatory GIS, information integration / data mining, linked data, semantic technology, and geospatial analysis. We look forward to Professor Kessler's arrival with great anticipation.
The addition of Professors Carson and Kessler to our world-class core-GTECH faculty members Jochen Albrecht and Sean Ahearn, plus other faculty members who contribute to our GTECH program, creates a stellar GIS team here at Hunter Geography. The department plans to expand our GTECH offerings accordingly in the next few years.
The second area in which we are experiencing major changes is in curriculum.
The curriculum for our undergraduate Geography major is being significantly revised. The new curriculum, the result of over three years of work by our faculty, has been submitted to the college and, if accepted, will be in effect this Fall. Those of you who are currently majors get to choose between the old and new requirements, so you should not be significantly impacted by these changes.
Our Environmental Studies major, while not going through a major overhaul, is always in the process of review and refinement. This year, Professor Peter Marcotullio worked with the Roosevelt House Public Policy minor to arrange the sharing credits between our Environmental Studies Policy and Management major (soon to be called Human Dimensions of Environmental Change) and the Policy minor, streamlining the process for students to obtain both degrees.
In addition to these departmental changes, two new CUNY-wide initiatives will affect our Geography family. First, Pathways, the new common core across CUNY, is scheduled to take effect this fall. Pathways will affect not only our students, but eventually the selection of courses we offer, as well as enrollment in these courses. We do not yet know its full impact, and will have to adapt as we go.
And, last but not least, CUNYFirst, the  new system for registering, advising, and an increasing number of other university functions, has arrived at Hunter. It will likely take some time for all the kinks in this system to be ironed out.  
Thus, between departmental and CUNY-wide changes, it has been a challenging year; and the fall semester may pose interesting challenges. Professor Ines Miyares has taken the lead and navigated us through these significant changes, and I thank her for the long and frustrating hours she has put in to implement these transitions. Beginning in the fall, we will start the curriculum revision process all over again, but this time with our Geography Masters program!
I would like to thank all the folks who made this a productive and exciting year for our department. This includes the Department of Geography faculty; the departmental office staff including Martha Taylee, Tiffany Morrison, and Alex Krawchuck for keeping the department running smoothly; our Computer Lab Technician Amy Jeu for her many contributions to software and teaching related duties; Nguyen Ngoc for his always reliable computer support; and Research Associate Tom Walter for his contributions in the area of computer support, advising, and teaching. And, of course, the Assistant to the Chair Dana Reimer, who supports the department in general, and the Chair in particular, in so many ways that are crucial to the functioning of the department, deserves tremendous appreciation from us all, especially the Chair.
Furthermore, I'd like to thank three groups that are often overlooked. First, our adjuncts, who in our current academic system, carry so much of the teaching load and therefore play a leading role in educating our students. We have been fortunate to have a number of extremely talented adjunct instructors, many of whom have been teaching here for years. Second, the administrators who enable the department to function by providing the support we need. The Deans, Provosts, and Presidents offices have been very supportive of our department, and provided us the means to flourish to the extent possible.
And, last but not least, the students! Since my arrival here at Hunter College in 2001, I have felt that Hunter students are a pleasure to work with, and provide the job satisfaction that most Professors seek. The students are bright, mature, and hard-working, and we strive every day to give them the educational experience they want and deserve.
I wish you all a wonderful summer, and wonderful year ahead. To those who are graduating, or who are friends of the department and want to keep in touch, please do so by signing up to our Keep In Touch web site, http://www.geo.hunter.cuny.edu/kit.html. We hope that this web site can be used to keep alumni and friends up to date on department news and for alumni and friends to network for both personal and professional reasons.
Allan Frei
Professor and Chair, Department of Geography, Hunter College