In the News
Summary of Weekend Trip to Black Rock Forest
Sept 29-30, 2012
By Allan Frei and Tom Walter, Department of Geography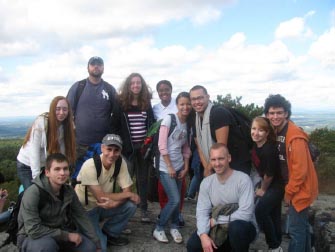 Some students with Prof. Frei on Black Rock Peak.
On the weekend of Saturday September 29 through Sunday September 30, 2012, the department of Geography held a weekend trip to Black Rock Forest. We had a total of 29 participants, including 25 undergraduate students and 4 faculty/staff. Two of the students did not stay in the lodge with us overnight (one participated only on Saturday, the other participated both days).
The weekend trip had both academic themes as well as other goals. The academic themes of this weekend were green building technology (Saturday), hydrology (Saturday) and geology (Sunday). The other goals of the trip were to foster department spirit, to encourage closer relationships between students, and to provide an opportunity for more interaction between Faculty/Staff and students outside of the classroom. Dinner on Saturday, and breakfast and lunch on Sunday, were communal meals that the students and faculty/staff cook and clean up together. The trip was very successful on all accounts. Details are discussed below.
We sincerely thank the Hunter College Provost's and President's offices for their generous support for this field trip and for our students!