In the News
2014 Anastasia Van Burkalow Award Winner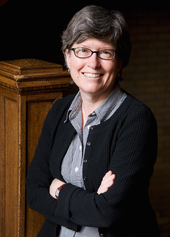 The Department of Geography is very proud to announce that the 2014 winner of the Anastasia Van Burkalow Award for Distinguished Service goes to Prof. Sara L. McLafferty of the Department of Geography and Geographic Information Science, University of Illinois at Urbana-Champaign. Before she joined UIUC, Prof. McLafferty spent 1987 to 2001 in the Department of Geography here at Hunter College. She arrived from Columbia University as an Associate Professor and was promoted to Professor in 1999. She was Chair of this department from 2000 to 2001.
Prof. McLafferty specializes in the geography of health, urban geography, GIS and spatial analysis. Most recently she is the co-author, along with Ellen K. Cromley, of GIS and Public Health, 2nd edition, New York, Guilford Press, 2011. She is also an Associate Editor of Health and Place and serves on the editorial boards of the Annals of the Association of American Geographers, Geographical Analysis, and Spatial and Spatiotemporal Epidemiology.
Please join use in congratulating Prof. McLafferty at this year's Department of Geography Annual Awards Dinner on Friday, May 9th, 2014.  Tickets may be purchased at the Department of Geography office (HN 1006) – geog@hunter.cuny.edu or by completing our form.  Ticket prices are $40 per person; $20 for registered Hunter students; and free for GTU inductees and Cohen Prize winners.