AGS Fall Symposium
GEOGRAPHY 2050
The American Geographical Society's Fall Symposium
www.geography2050.org
SYMPOSIUM DATES: NOVEMBER 15-16, 2018
LOCATION: COLUMBIA UNIVERSITY, NEW YORK CITY
APPLICATION DEADLINE: 9 AM, MONDAY NOVEMBER 5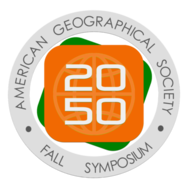 GEOGRAPHY 2050, the Fall Symposium of the American Society of Geographers will be hosted by The Earth Institute of Columbia University on November 15th and 16th. This year's theme is "Powering Our Future Plant." ​The ​AGS ​Fall Symposium ​brings ​together ​leaders ​of ​business, ​government, ​science ​and ​education. This is a wonderful opportunity to explore employment opportunities in highly dynamic and technologically advanced areas of geography and earth science; listen to engaging presentations; interact and network with leaders in business, government, science, and education!
A limited number of fully subsidized tickets are available. The Department of Geography at Hunter College has obtained funding to support registration, all meals, and symposium materials.
Who can apply? Hunter College undergraduate Geography and Environmental Studies majors; Geography MA students, GIS Certificate students. Interested MGEOi students please contact Professor Ahearn at sahearn@hunter.cuny.edu by November 2nd.
The application deadline is 9 AM, Monday, November 5th.
How do I apply? Send an email to csa0005@hunter.cuny.edu with the subject Geography 2050 Application, and include: (1) your full name as it appears in CUNYfirst, (2) your eight digit EMPL ID number, and (3) a paragraph explaining (a) why you want to attend Geography 2050, and (b) a description of your service, if any, to the Department of Geography, Hunter College, or the community at large (e.g., membership in GeoClub, Graduate Geography Association, etc.).
How applicants will be selected. Selection is based on your GPA, the number of credits you've earned toward your major, and your application. Successful applicants will be informed by Friday, November 9th.
If you are selected: (1) Attend all, or most, of the 2-day event, and (2) Submit a 1-page summary of your experience, including what you gained/learned from it, by December 1st.
If I do not receive funding to attend the Symposium, can I still attend?  Yes. Email gmuset@americangeo.org for registering at the early registration rate of $210.00 USD.
What if you have classes or work on those days? Professor Pavlovskaya, Chair of Geography, will contact your instructors to request an excused absence and explain the situation to your instructor or employer. Please contact her at mpavlov@hutner.cuny.edu.
Sponsored by: Hunter College President's Initiatives for Student Engagement, the Society of Woman Geographers, and the Department of Geography