In the News
Geography and Environmental Studies Awards and Celebration Night

If you can see this, then your browser cannot display the slideshow text.

Awardees and honored students


Student research posters presented
On May 11th, 2018 the Department of Geography and their students stepped away from their desks and projects to take part in the Annual Reception and Awards Presentation. Every Spring semester the Department of Geography hosts an event to commend students with honors and prizes for the academic year and allowing students, faculty, staff and friends of the department to meet socially and discuss influential topics and ideas. By showcasing achievements of the students majoring in Geography and Environmental Studies, this event not only applauds their daring fieldwork and academic accomplishments but also furthers knowledge about these highly important disciplines that address the most urgent problems humanity is facing today.
This year the famous house of political figures Franklin and Eleanor Roosevelt served as the event space for the Spring 2018 Department of Geography Awards. Located at 47-49 East 65th street, this landmark has been a part of Hunter College since the year 1943 when several Hunter student groups chose to purchase the property. Upon entering the estate attendees were asked to sign the guest book and were provided with a tour of the historic home by Historian Deborah Gardener. Following the tour guests proceeded to what once served as a conference room to the Roosevelts to begin the ceremony. With a welcoming atmosphere, the attendees enjoyed an abundance of delicious appetizers inside while drinks were served on this beautiful spring evening on the terrace overlooking 65th street.
To commence the award presentations, the chair of the department Dr. Allan Frei opened the reception with welcoming remarks and a reminder that both Teddy and Franklin Roosevelt led influential political careers with actions and ideas on conservation policies. Their approach and attitude towards preservation made the Roosevelt House the ideal venue for both faculty and students of Geography and Environmental Studies. Professor Frei also gave thanks to the Roosevelt House staff and the President of Hunter College Jennifer Raab for their effort and success in the restoring its beauty. His acknowledgment did not end there as he gave much gratitude to various parties including The Society of Woman Geographers for supporting our outstanding female students and friends of the Department of Geography for their donations. He then congratulated the fourteen majors who graduated with academic honors as well as our excelling students who won such important awards as a Public Service Scholarship, the Cohen Prize for Academic Excellence, and two Society of Woman Geographers Graduate Fellowships.
Please see the list of honored students below.
During the ceremony, one student was also inducted into the oldest undergraduate organization, Phi Beta Kappa and six students were inducted into the International Geography Honor Society, Gamma Theta Upsilon.
After the presentation of awards, students participated in an engaging poster session that featured their research projects completed in the past academic year. They presented their research topics to the audience and then had open conversations about their research with the attendees who moved from one poster to the next and asked many questions.
Please see summaries of the research posters below.
---
2017-2018 Department of Geography Honors Graduates:
Melanie Bergeron - Environmental Studies
Lyle Davidson - Environmental Studies
Jonathan Florentine - Environmental Studies
Samuel Genchikmakher - Environmental Studies
Nitara Gilles - Environmental Studies
Petra Kelly-Voicu - Environmental Studies
Iman Mamdouh - Geography
Grace Muset - Geography
Malwina Pelczar - Environmental Studies
Milton Perez - Geography
Billie Rushe - Environmental Studies
Joscelyn Sanchez - Geography
Gabriel Solis - Environmental Studies
Yelena Suponya - Environmental Studies
Public Service Scholarship 2018-2019:
Zhi He
Phi Beta Kappa:
Yvonne Chow - Geography
Member, Gamma Theta Upsilon, Theta Pi Chapter
Gamma Theta Upsilon, International Geography Honor Society Induction:
Ashley Lynn Brown
Johnathan Alexander Florentin
Joanna G. Green
Altynai James
Destiny Amber Kelley
Annabelle Serena Tsaboukas
Miriam and Saul Cohen Prizes for Geographic Excellence: $1,000
Petra Kelly-Voicu
The Cohen Prize is a competitive cash award for both undergraduate and graduate students. It was established by our former Human Geography Professor and President Emeritus of the Queens College Dr. Saul B. Cohen who has written highly influential books on geopolitics.
Society of Woman Geographers Graduate Fellowship Award: $9,000 each
Danielle Bartolone
Erika Jimenez Rivera
The Society of Woman Geographers was founded by four women explorers in 1925 with a goal to support women engaged into geographic research and exploration. This award is given to outstanding MA Geography female students who plan to seek advanced degrees upon graduation from Hunter College.
---
Research projects featured during the student research poster session
Spatial Variations of Soil Microbial Extracellular Enzymes in Fragmented Forests
By Noa Jaffe, Dr. Andrew Reinmann
Forest fragmentation is a globally pervasive phenomenon that creates strong gradients in microenvironmental conditions and tree biomass between the forest edge and interior. These gradients in microenvironment also appear to alter the cycling of carbon in forest soils by stimulating soil respiration. Forests mitigate climate change, in part, by storing large amounts of carbon in their soils, however the mechanisms driving the response to soil respiration to forest fragmentation are unknown. Extracellular enzymes exuded by microbes in the soil play an important role in decomposition of soil organic matter and the release of carbon dioxide from forests into the atmosphere and studying these enzymes can impart a lot of information about how forest fragmentation might alter forest carbon cycling. Soil samples were collected from a forest fragmentation study at the National Institute of Standards and Technology campus in Gaithersburg, MD. These samples were brought into the lab where extracellular enzyme activity assays were conducted. Results point to increases in enzyme activity with proximity to the forest edge. Ongoing work is exploring linkages between soil enzyme activity and rates of soil respiration between in this forest.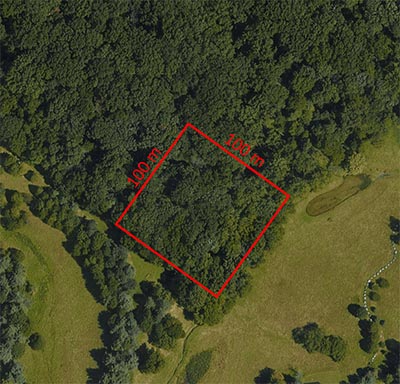 Map of study site at the National Institute of Standards and Technology campus in Gaithersburg, MD.
---
Atlantic Coast of New York Nearshore Wave Analysis
By Mayra Sanchez Herrera, Professor Frank Buonaiuto
An investigation of wave characteristics for the New York Atlantic coast was performed using data from the National Data Buoy Center station 44025. 26 years of consecutive, hourly measurements of direction and magnitude were analyzed and a general climatology along with annual wave roses were developed. The results showed that the fluctuations in annual incident wave energy were related to larger scale atmospheric forcing.  The frequency, strength, and track of the storm systems that move through the North East are strongly influenced by ENSO (El Niño Southern Oscillation) phasing, specifically through position of the Jet Stream.  A multivariate ENSO index (MEI) was used to categorize the constructed wave roses into ENSO Positive, Negative and Neutral regimes.  ENSO Positive conditions showed an increase in wave energy from the east, the ENSO Negative phase was characterized with more wave energy from the south, and ENSO Neutral was similar to the general climatology for the region.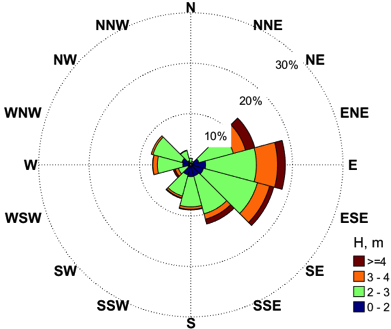 ENSO Positive Conditions.
ENSO Negative Conditions.
---
Subway Accessibility for Persons of Limited Mobility
By Yu Qiao Chen, Vincent DeCesare, Julia Jong, Samantha Simpson, Natalie Wolek, Dr. Pavlovskaya
This research established that only a small percentage of New York City subway stations (15%) and entrances (25%) have met the standards of the Americans with Disabilities Act (ADA). While the Metropolitan Transportation Authority (MTA) selects stations based on ridership, transfer availability, and proximity to major activity centers, it accounts mainly for aging populations and less so for people with disabilities or restricted mobility. In contrast, this research considers accessibility (the geographic distribution within ¼ mile of an ADA compliant subway station) for this wider population including people 65 years of age or over, persons with disability status, and households with children under 3 years of age (they require accessibility for strollers). It also considers such population characteristics as race, ethnicity, poverty status, and veteran status.
The NYC and MTA shapefile data came from Bites of the Big Apple website and NYC Open Data while 2015 American Community Survey estimates – from U.S. Bureau of Census and Social Explorer. The spatial analysis techniques included buffering and true overlay followed by map algebra and statistical calculations. The research found that in white majority districts 51% of people with limited mobility cannot access an ADA-accessible station while in majority non-white districts, this share is 74%. Eight community districts are unserved by ADA-accessible stations (3 in southern Brooklyn, two in eastern Queens, and two in the Bronx). ADA-accessible stations are clustered in mainly commercial (not residential) areas of Midtown Manhattan and those who live there are overwhelmingly white. The findings indicate the importance of considering all kinds of people with limited mobility for planning equitable access to public transportation.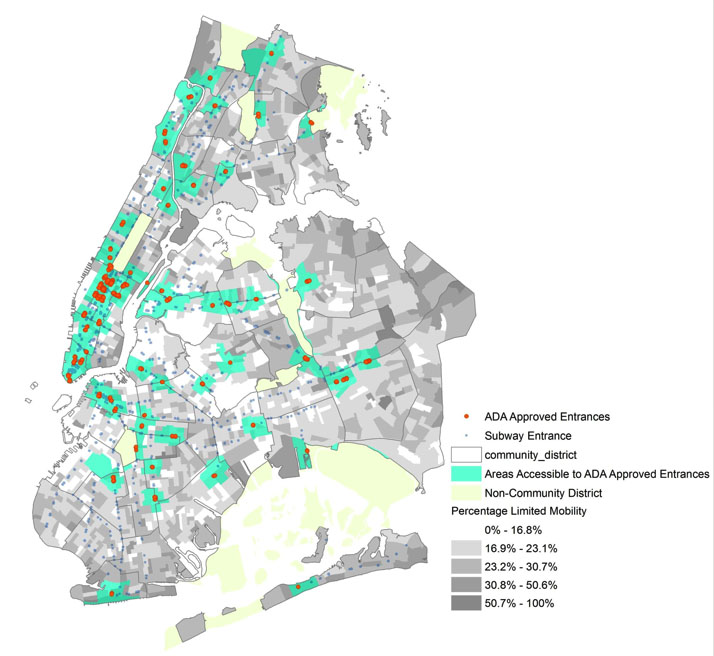 Percentage of persons of limited mobility per census tract, with areas accessible to ADA-standard subway entrances.
---

Where the grass is greener: A snapshot of New York City's distribution of community gardens and funding resources
By Wyatt Cobb, Nada Elgamal, Charlotte Eybl, Zhi He, Dr. Pavlovskya
In order to stimulate change for more green areas like parks and gardens in cities such as NYC it is important to know how resources are distributed within government capital funding. Our initial hypothesis was that in places where governmental capital investment is low, New York City residents, greening and grantmaking nonprofits supplement by creating parks and gardens. Data on spatial location of community gardens from a community organization "596acres" that advocates for turning vacant lots into community gardens, was combined with data from capital project tracker from the website of New York City Parks and Recreation. The statistical analysis yielded a classification of 4 zones, each representing a combination of High/Low distribution of funding and community gardens. These results were examined against demographic data of race and median income at the census block group level.
The most prominent observation was the low-income minority neighborhoods, and especially black or African American neighborhoods, contained concentrated areas of zone 3 (high gardens/high funds) and zone 4 (high gardens/low funds). The resulting maps and statistics represent a useful tool for increasing public awareness surrounding the distribution of federal/city funds and its correspondence with the attention of non-profits concerned with open space to these areas of high or low funding. These resources are an important factor in the process of creating more green, just, and equitable cities.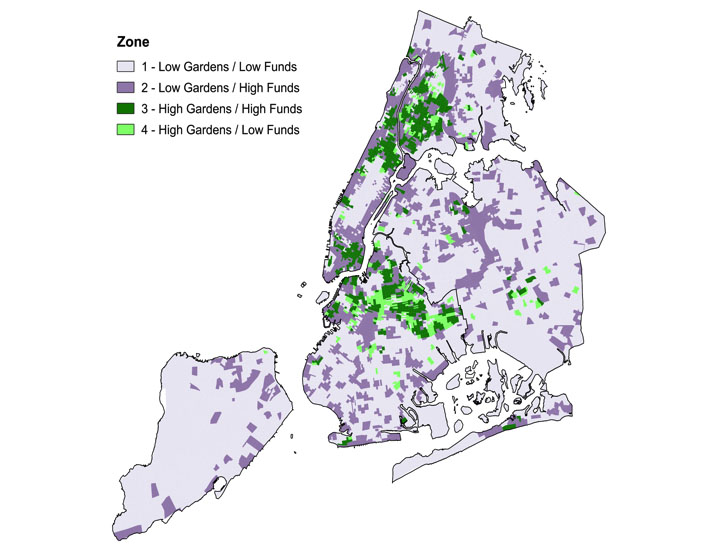 This result layer shows concentrations and deficits of funding and gardens.
---

Assesment of socio-environment impacts of the urban expansion using GIS and Remote Sensing in the city of Guayaquil, Ecuador
By Erika Jimenez Rivera
Urban expansion involves political, social and ecological themes which can be studied through geospatial technologies. In the largest city in Ecuador, Guayaquil, the rapid urban growth has unevenly affected its population and the environment. Satellite imagery on the landuse and various census data from the years 1990, 2000, 2010 were analyzed using remote sensing classification techniques and spatial analysis to understand the combined social and environmental effects. This study demonstrated fewer amenities like clean water supply and sewage connections in new urban residential areas with primarily informal housing while central areas for businesses have higher public services. These uneven patterns require specific policies that address social and environmental outcomes and costs of urban expansion.
---

Spatial Analysis of Limited Equity Cooperatives in NYC
By Hilary Wilson, Ashley Brown, Chris Spagnoli, Robert Abugel, Dr. Pavlovskaya
This project examined geography of NYC limited equity housing coops (LECs) together with Urban Homesteading Assistance Board (UHAB). These coops restrict resale value of their shares and thus keep them affordable to multiple generations of low-income families. Data on geographic distribution of LECs in New York City (Housing Development Fund Coorporation cooperatives (HDFCs) and Mitchell Lama coops) was analyzed in the context of its socio-demographic spatial distributions. The research found that co-op residents tend to live in communities with higher rates of unemployment, lower household incomes, very large proportions of renter households, and larger non-white populations. At the same time, HDFCs are also concentrated in census tracts with relatively high home values and poverty rates similar to the metro area. In these tracts rates of renters burdened by housing costs tend to be higher. These findings suggest that HDFC co-ops provide a scarce source of affordable owner-occupied units in communities where residents' low incomes are strained in the rental market and the vast majority of people are locked out of homeownership because of extremely high housing values. In addition, housing co-operatives that left the Mitchell Lama program (e.g., voted to become market rate coops) tend to be in neighborhoods with a larger percent of white residents, a greater mean income, and more valuable properties than those remaining in the program indicating that gentrification puts pressure on LECs as a form of affordable housing.