CHEESEQUAKE STATE PARK, NEW JERSEY
Cheesequake State Park is a botanical preserve in the midst of a rapidly developing region around the western end of Raritan Bay between South Amboy and Keyport in Monmouth County, NJ. The 1,284 acres of parkland encompasses most of a tidal wetland along Cheesequake Creek, swamps, and low hilly forested upland. Many coastal plain features and biological habitats are preserved within this small park. A hike through the park (along several miles of trails) will give you the opportunity to view many environmental settings.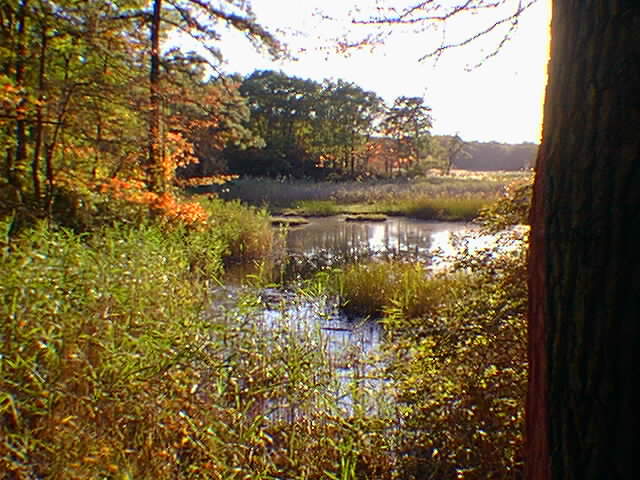 Transition environments: forests, swamps, andwetlands.
Cheesequake also has a long history of human activity. The name "Cheesequake" is probably an English alteration of an original indian name. (The Raritan Bay area has a rich indian history, most of which is probably buried beneath the mud in the bay). The hills around the creek were farmed and developed by early settlers. The creek is navigable for approximately two miles landward; the remains of old docks still exist at the end of the "dock road." Goods shipped off to market as well as a rich history of smuggleing contraband no doubt took place here. In the mid 19th Century to early 20th Century several industrial plants and many homes existed within the park area. The manufacture of ceramics was a primary industry. This industry and housing is all gone now, but, unfortunately, it left a lasting legacy of hazardous chemical waste that has a part of the park closed indefinitely. On the north side of the park is a large brush covered hill that is a closed landfill that has received "superfund" attention. In addition, the wetlands have been channelized to maximize drainage by early attempts to reduce mosquito infestations. Causeways for both Highway 35 and the Garden State Parkway cross the Cheesequake wetlands and have also changed the natural tidal current circulation in the wetlands. Urban development encroaches all boundaries of the park. In addition, some of the parkland is also managed as grass fields and parking areas.
Despite these short-comings Cheesequake is still a very remarkable place and is an ideal setting for biological and environmental field trips. Maintained dirt roads, hiking trails, and several well-maintained boardwalks allow hikers to see a wide assortment of plants and habitats. Of particular interest is a boardwalk through a American Cedar swamp (below) which is a relict of greater swamps that fluorished in the region in the past. The dense grove of cedars is host to large ferns and a variety of other swamp plants which give it an incredible "primordial feel."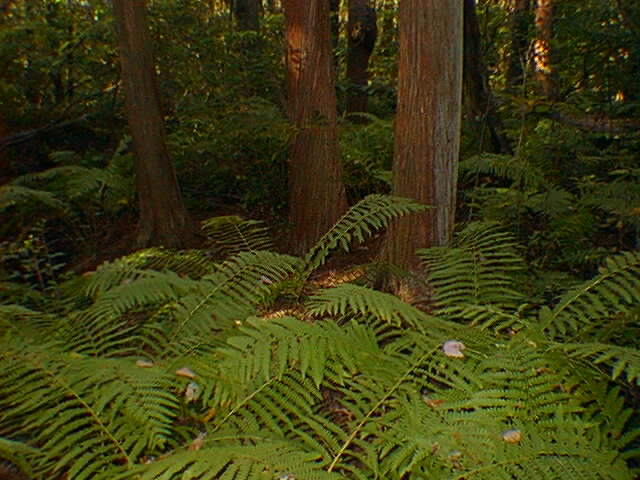 American Cedar swamp and ferns.
The park sits on exposures of the generally unfossiliferous Merchantville Formation and Woodbury Shale (well exposed in an abandoned excavation on the west side of the Garden State Parkway). Iron-stained quartz pebbles are abundant, scattered along the dirt roads as well as in natural exposures on the tops of natural stream terraces around the park. These gravels probably represent reworked deposits of the Beacon Hill Formation (Pliocene). In sandy areas on the hilltops classic pine barren-type ecology is evident. Very mature deciduous forest thrive in areas where clay helps maintain a high moisture content in the soil.
The park maintains a small environmental education center, campground, and picnic areas, and allows limited fishing, crabbing, canoeing, and biking. Access fees are charged between Memorial Day Weekend to Labor Day. For more information: (908) 566-2161.


Return to the ATLANTIC COASTAL PLAIN PAGE...

Return to the New York Bight Home Page
Writers and Webmeisters:
Phil Stoffer and Paula Messina CUNY, Earth & Environmental Science, Ph.D. Program
Hunter College, Department of Geography
Brooklyn College, Department of Geology

In cooperation with
Gateway National Recreational Area
U.S. National Park Service

March, 1997