SOUTHERNMOST OUTCROP IN NEW YORK
Conference House, Tottenville, Staten Island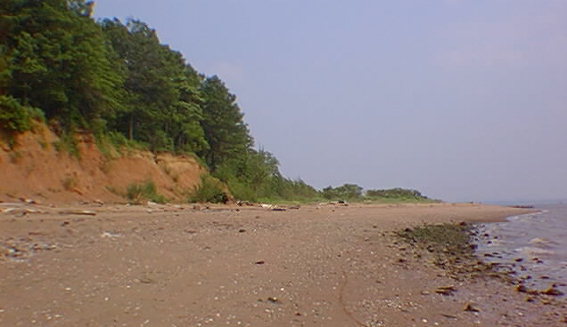 This outcrop of Wisconsin-age glacial till demonstrates that glaciers reached the southernmost extent of New York State. The outcrop consists of a mix of reworked material from points north. Large blocks of Palisades basalt, paleozoic metasedimentary rocks, and Newark Basin sedimentary rocks are mixed with clay, silt, sand, and gravel more typical of glacial deposits in New Jersey. (Similar deposits crop out around at the intersection of 440 and the Garden State and Route 9). These outcrops demonstrate that the Raritan River valley marks the southernmost advance of the glaciers. Rising sea level (as the glaciers have melted) flooded the valley forming Raritan Bay.
Bring a picnic with you to this beach. On a summer weekend it is possible to take a short tour of the Conference House, the restored home of British naval captain Christopher Billopp that was used for a meeting between Benjamin Franklin, John Adams, and Edward Rutledge and British officials in a failed attempt to negotiate the end of aggression during the Revolutionary War. The house sits on a low hill overlooking the mouth of Arthur Kill and Raritan Bay. The downtown waterfront of Perth Amboy is situated on the south side of Arthur Kill from this locality.

Return to the TRIPS PAGE...

Return to the New York Bight Home Page