SHORE FEATURES OF THE NEW YORK BIGHT
This web page is a short collection of images representing beach features, man-made structures affecting shore areas, and other items significant to the coastal geology of the New York Bight.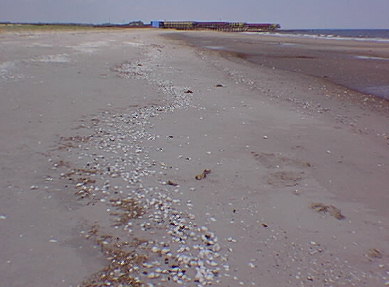 A wrackline on Rockaway Beach marking highest swash level from the previous highest tide cycle. b>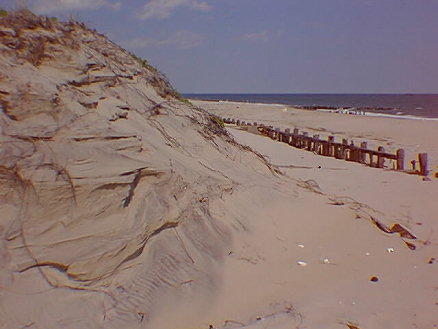 Eroded dune, battered seawall, beach, and groin (in distance), Fort Tilden Beach, Queens, NY.



Cut-awat section through a "healthy" beach dune displaying horizontal compacted bedding and plant overgrowth, Fort Tilden Beach, Queens, NY.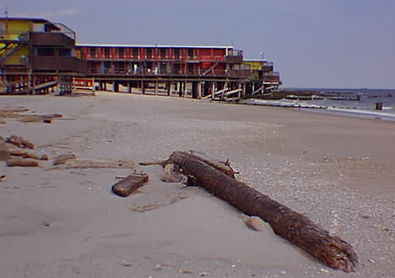 Flotsam log carried by the surf is a hazard to both humans and building structures, such as this cabana on Breezy Point Beach, Queens, NY.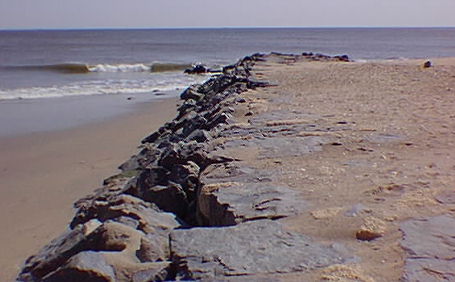 Sand trapped by a groin on Sandy Hook, NJ. Longshore transport of sand is northward (from right to left). b>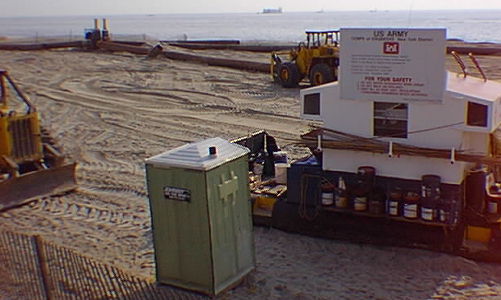 The 1996 Beach sand replacement operation along the Seabright sea wall south of Sandy Hook. This $15 million project (65% federal tax dollars) will temporarily replace sand in front of the seawall until it is removed in the near future by coastal erosion processes. Much of the sand will end up on Sandy Hook; some will end up in the harbor shipping channels contributing to the expense of future dredging programs there. The "political football" question is: "is it worth it to tax payers?" Who really benefits, and might there be alternatives to tax dollars to pay for it?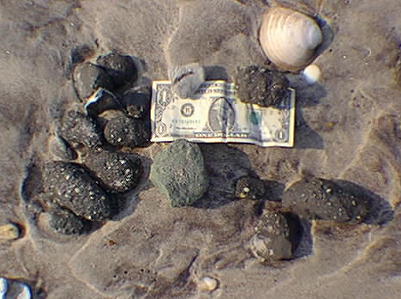 Armored mudballs on Sandy Hook Beach. These gravel-coated chunks of weathered Cretaceous mud are an indication of severe erosion occuring along the front of the Seabright sea wall. b>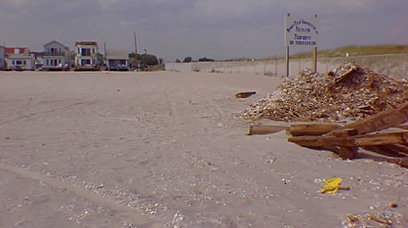 Beachfront homes at Breezy Point, Queens, NY where shore dunes have been removed. A fence separates barren beach from natural vegetated dune area. What effect will a high storm surge have on this community? Another "political hot potato:" should inland tax and insurance payers be held financially responsible for coastal storm damages?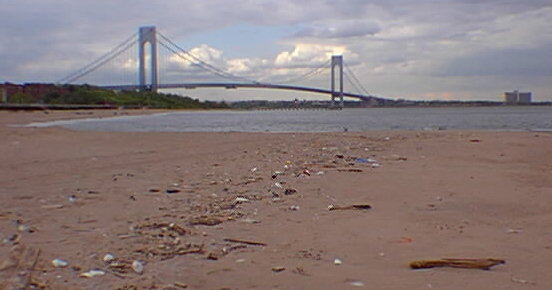 A wrackline of trash on a Staten Island beach. The Verrazano Bridge crosses the Narrows in the distance. Tidal currents help keep the narrow passage between Staten Island and Brooklyn flushed clear of bottom sediment and debris. The deepest spot in all of the Hudson drainage is beneath the bridge.

NEXT PAGE...

Return to the New York Bight Home Page
Writers and Webmeisters:
Phil Stoffer and Paula Messina CUNY, Earth & Environmental Science, Ph.D. Program
Hunter College, Department of Geography
Brooklyn College, Department of Geology

In cooperation with
Gateway National Recreational Area
U.S. National Park Service

Copyright September, 1996 (All rights reserved; use as an educational resource encouraged.)>